To add a button in Outlook to display full mail headers follow the steps below:
Click on the File tab and select Options
Click Customize Ribbon
Under "Choose commands from:", select Commands Not in Ribbon from the drop down menu
Select Message Options… from the list
From the List in the right, select the Home (Mail) tab and click New Group
Click Add >> and the Message Options will be added to the group that was just created.
To change the name of the New Group that you created, highlight the New Group (Custom) and click Rename. Type Mail Header in Display name: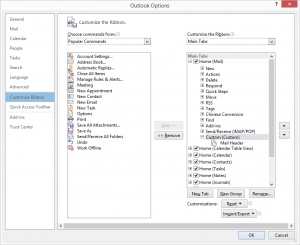 To view the mail header information, select Message Options. The internet header information is displayed under Delivery options.